The message of "Becoming God's Epic" is one of love, hope, purpose, and direction. It is one that is desperately needed in the American, and Western church today.  I am very zealous of the message in this book. I love to talk about the principles and precepts contained therein and consider it an honor and a privilege to do so.
I am currently accepting speaking engagements. Contact me @ "murchison_jr@juno.com". Below is a link of what to expect.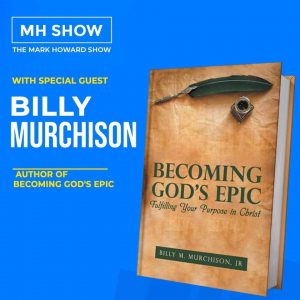 https://podcasts.apple.com/us/podcast/the-mark-howard-show/id1546102501?i=1000550458612
I look forward to speaking to your group, class,event, or church
I am on Facebook at "Becoming_God's_Epic".  I will post content that I hope will be a blessing, challenge, or encouragement. A like or follow would be appreciated.
Additional social media sites will be posted on the Facebook page as added
My physical mailing address is:
Billy M. Murchison, Jr
PO Box 771663
Memphis, TN 38177
(901) 648-9525
Email Address: